VERY IMPORTANT! These instruction were part of the installation procedure and checklist, but worth mentioning again.\
powerDRAW 4.0 is only compatible with the Visio 2003-2010 VSD file format. It is not compatible with the newer Visio 2013-2016 VSDX file format. This format change must be made for powerDRAW on all compatible versions of Visio - including Visio 2019.
Go to the File > Visio Options > Save tab. Select the Visio 2003-2010 VSD file format. Click OK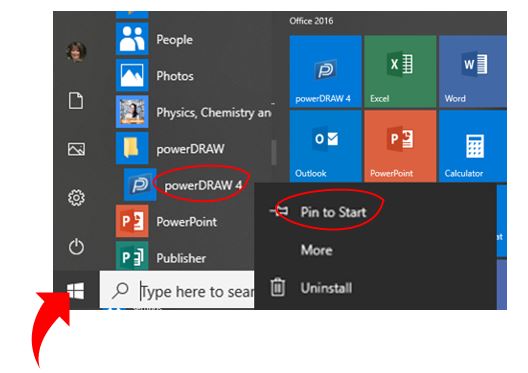 2. Open PowerDRAW Options
From your Start Menu, find the powerDRAW Start command in the 'P' section of your programs list..
Or, you can Pin the Start command to your Start Favourites or Tiles and open from there.
You double click on powerDRAW files in Windows Explorer to open them - but they must be saved in the .pdd format.
Do not open powerDRAW files from within an email or a zip file.

Once powerDRAW opens, you will basically have the Visio Tool Bar and the Add-Ins Tab for powerDRAW.
The most commonly used tabs are the Home Tab and the Add-Ins Tab which can be sorted out into 3 sections.

To the left in the Add-Ins Tab your will find the File Management Buttons for Opening Templates, Opening Existing Drawings and the Save/Save As commands.
In the of the center of the Add-Ins Tab you will find the Drawing Speed Buttons. These can be used on singular icons or more importantly, groups of icons or strings, for editing new or existing drawings.

In the far right of the Add-Ins Tab you will find some Auxiliary Buttons for miscellaneous tasks such as Copy powerDRAW Page (the whole page) or just Copy and Paste between drawings to ensure all the icon properties carry over.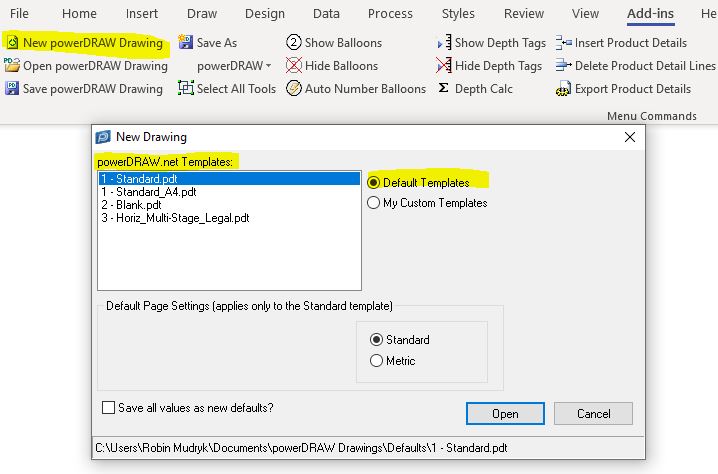 4. Create New Drawings - Open Templates
In the File Management buttons
Important! Do not use the Visio File tab for Saving powerDRAW Drawings.
5. Save and Save As Files
IMPORTANT! Do not use the Visio File tab for saving powerDRAW Drawings. Make sure you use the Save or Save As powerDRAW Drawing Buttons.